---
New Video about the Book


---
Upcoming Classes and Events
---
Webinar, July 9 - January 28
Letting It All Go! Releasing Karma and Pain from Your Past
Clear the slate on your personal and ancestral histories! Being on a spiritual path requires that we all heal limiting and painful energies from our past. This series of powerful webinars is fast paced, timed at 3-4 week intervals for optimal integration. The issues are patterns Antera has found in thousands of clients through the years.
Webinar, August 24 - September 28
Building Awareness I: Psychic Protection
As you build more awareness of the non-physical universe, it is very important that you understand how to claim and protect your personal energy field. Energy-sensitive people often draw in energies or attention that can distract, influence, or harm them. Prerequisite: Optimal Human Beingness
FREE Global Meditation on the Equinox, September 22
New Paradigm: Enlightened Business
Join thousands of lightworkers around the world to heal humanity and our beloved planet! This is a chance for lightworkers to focus as a powerful group on what we really want to manifest on Earth. We will energetically support more sustainable, cooperative, and less greedy ways of conducting business.
Webinar, November 1 - December 6
Building Awareness IV: Conscious Incarnation
In this class you will delve into the time between lives when you were making decisions about your next lifetime, including choosing your family, location, body, and soul contracts, as well as setting up major challenges and lessons in your life. Prerequisites: Building Awareness I, II, and III
---
Ongoing Programs
---
Home Study Class:
Introduction to the Spiritual Path
Awakening to higher consciousness, and wanting to find the deeper meaning in life, puts you on a spiritual path. This class covers the basics of what it means to embark on a journey back to the Divine, and how to find higher perspective of who you are and why you are here.
Home Study Class:
Optimal Human Beingness
Understanding and Evolving Your Four Body System
Study at your own pace with this home study course. This is the class you will wish you had taken as a child to prepare you for life as a human being!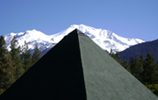 Mt Shasta Pyramid

Unique, powerful, spiritual energies in our 24 X 24 foot pyramid. By appointment only, groups and individuals, for meditation. Short visits and longer vision quests.
---
Initiations in the Order of Melchizedek
June 2016