Upcoming Classes and Events
---
Webinar -- Feb 19 - July 30
Building Awareness: Psychic Senses
A comprehensive course to develop your ability to sense energy through all the different psychic senses: seeing with and without eyes open, feeling, hearing, knowing. Expand your awareness and take the blinders off! Prerequisite: Optimal Human Beingness.
March 20 FREE World-Wide Equinox Event
Theme to be Announced
Join with hundreds around the world on the powerful equinox in a virtual event.
March 29-30 in Chicago
Initiation into the Order of the Blue Snake
Empower yourself and receive healing tools from Divine Mother in this life-changing initiation. Join a wonderful group of lightworkers.
Webinar -- April 29
Introduction to the Spiritual Path
Awakening to higher consciousness, and wanting to find the deeper meaning in life, puts you on a spiritual path. This class covers the basics of what it means to embark on a journey back to the Divine, and how to find higher perspective of who you are and why you are here.
Webinar -- May 20, 27, and June 3
Walking the Spiritual Path
More info posted soon. The progress of spiritual evolution, from neophyte to high initiate, has been taught in mystery schools for many thousands of years. This class gives you the concepts and understanding needed to follow your path of spirituality smoothly and quickly. Prerequisite: Introduction to the Spiritual Path
June 20-22 in Mt Shasta
Initiations in the Order of Melchizedek
Our annual spiritual gathering. Being initiated into this cosmic order in the presence of spiritual family and friends is highly profound and transformative, and puts you in a closer relationship with the Ascended Masters.
---
Ongoing Programs
---
Home Study Class:
Optimal Human Beingness
Understanding and Evolving Your Four Body System
Study at your own pace with this home study course. This is the class you will wish you had taken as a child to prepare you for life as a human being!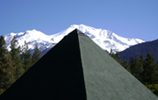 Mt Shasta Pyramid

Unique, powerful, spiritual energies in our 24 X 24 foot pyramid. By appointment only, groups and individuals, for meditation. Short visits and longer vision quests.


Photo from the December Workshop
in Death Valley
Photo from the June Initiations
in the Order of Melchizedek