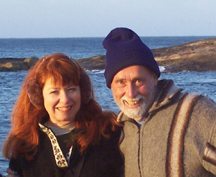 Antera and Omaran

Michael
---
Contact us:
email: cse@soulevolution.org
Center for Soul Evolution
PO Box 740
Mt. Shasta, CA 96067
530-926-2886
Antera, President
Omaran, Vice President
Antera and Omaran are a twin flame couple, and founders of CSE. Antera has a background in science (geophysics) as well as metaphysics and performing arts. She has had a strong connection with her guidance since a small child, and has been channeling Ascended Masters and Angels for others since 1989. Omaran's background is in music, drama, construction, and soccer coaching. He has been on a spiritual path for over two decades and is a pure transmitter of the Christ Light. For 20 years, they have worked together as singer-songwriters, teachers, land healers, initiators, healers, and spiritual counselors. Antera is also an author. For more info on Antera and Omaran see Twinsong.us

Michael (Meekayel), Treasurer
Michael's upbringing in rural Wisconsin, coupled with his early exposure to Native American spiritual teachings, has led to a strong belief in and appreciation of the spiritualism of nature and the outdoors. For over 25 years, he has been following a conscious spiritual path that has encompassed a wide variety of spiritual studies and practices. He now serves as a spiritual advisor and healer and incorporates lightwork and geologic knowledge to heal the earth.

Ryka, Secretary
Ryka has been very involved with the center and the mystery school for a number of years. She is a Reiki healer and is a trained clairvoyant.