YES! YOU CAN MAKE A DIFFERENCE!
Our world may seem to be falling apart, with chaos, violence, and wars. But while the old structures are breaking down, new ones are being built. This project started over 20 years ago, led by Ascended Masters, angels, and nature spirits, and was developed over time by Antera and Omaran as they experimented in the field, finding what made the most effective procedure. It has been quietly easing humanity's birth into a higher consciousness by transforming harmful energies propagated by humans into beneficial energies.
Recently ST. GERMAIN said:

I say to you, that the Land Healing Project is the most important contributor to the changes in consciousness on this planet that we have seen yet!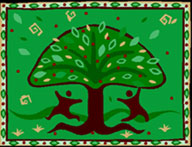 We have received countless comments about how using this process has helped people. Here are a few:
Shortly after moving into my new place I did the land clearing ceremony and the change was incredible! It felt like a tremendous weight had been lifted, I just moved from room to room and it felt so good I couldn't stop myself from smiling.
The month after clearing my office, my business income doubled! Customers were just drawn in like a magnet. Wow!
Oh my goodness, my mind can relax in my own space once again! It's so much easier to concentrate and meditate! I come home now and I don't feel any resistance anywhere - thank you, thank you, thank you.
Right after we cleared our home, the effect was immediate. It felt truly clean for the first time, all the heaviness was gone. It felt peaceful and calm when we walked in. Thank you!
---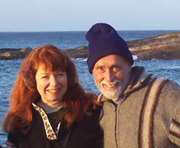 Antera and Omaran are a twin flame couple who live in Mt Shasta, California. They have taught spiritual growth classes and led ceremonies together for over 20 years. They travel around the world creating the Earth Healing Grid and teaching land healing. For more info on them see their websites: SoulEvolution.org and Twinsong.us.

Beginning Land Healing
Workshop by Home Study
Take this amazing workshop by internet on your own time. In these times of chaotic energy, all lightworkers need to keep their spaces energetically clean, and there is no other method that does this as effectively, or clears a space for so long! The negative thoughts, emotions, and traumas of people tend to linger in buildings and land areas unless they are deliberately cleared out. These damaging energies subtly influence us, affecting moods, thoughts, behavior, and creating limiting patterns in our lives. They also create imbalances that can bring on natural disasters, as Mother Earth attempts to purify herself.
You will learn the basic process to use in your home or office. It has been made as easy as possible by the Land Healers CD, included in the class, which will lead you through working with the elements, nature spirits, sound, sacred space, and visualization.
---

Advanced Land Healing
Live Webinar
The advanced training is for people who want to contribute to the Earth Healing Grid, a huge network of permanent energy points that now covers six continents, 58 countries, and contains almost 1000 points, all created by volunteers in the field. You will learn how to work more closely with nature spirits, including Mountain Spirits, and Ascended Masters, and join a group of powerful lightworkers who are dedicated to making the shifts needed to make the evolution of humanity and the Earth smoother. Together we are super strong!
Next advanced training by live webinar will be in the spring.
To qualify, you must have completed the beginning training and done the process at least once. You must also be a member of the Order of the Blue Snake.
---
FROM ST. GERMAIN:
Many feel they have a mission but they don't know what it is yet. This project can give them something to do to help this planet, that is aligned with a high purpose. It is ordained by the Order of Melchizedek! Anyone who works to further this Land Healing Project is in our sights, and we have tremendous gratitude for all of you!
Any part of the lives of these people that is karmically restricted will be relieved in a big way by contributing to this project over a period of time. We are very, very serious about this and we want people to know that there are great benefits to them by doing this. All those who are reading these words have an opportunity to not only help the planet in a significant way, but to help themselves and their own evolution as well.