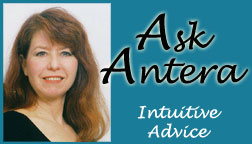 For a modest fee of $50, Antera will write a more in-depth answer to your problem. She tunes to your higher self, your spirit guides, and the Beings of Light that she channels to assess your situation and provide clarity and direction to you.
To get this service now:

1. First pay for it using your credit card or paypal account by clicking here: 2. Carefully email your question and a description of your problem to: antera@soulevolution.org
3. Expect an answer within a week. If you do not hear back in that time, please contact us immediately
to make sure your payment and email went through.
---
Antera also does psychic-intuitive healing, emotional release sessions, and energy medicine sessions using the Indigo/EPFX, by phone. See more about this go to the Twinsong website.