Greetings from Antera and Omaran

You may notice we finally have a new picture! This is from the Southern Ocean in Australia, where we travelled in July (their winter). We completed a continuation of the Earth Healing Grid there in a rapid two weeks, quite a whirlwind trip! But highly successful, for now the energy is flowing through the core of our planet, which was the primary goal. We are planning one other trip this year to stabilize this process for Earth.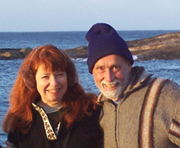 We want to again thank all who supported us in this and future land healing adventures. We are sharing messages from White Buffalo Calf Woman and Guardian of the Deep who explain more about the significance of this work.
For those who havenít yet heard, we are finally building the pyramid we have been planning for over a decade. It is 24 x 24 feet, and accessed from a tunnel underneath. We were asked by Metatron to complete it by Sept 9 (999) so it will be tuned to the Atlantean Crystal in Mt Shasta that is being activated on that date. We are very excited about this!
After the Spring Equinox Event, when we all cleared more of Americaís karma, we were asked do a similar event for the entire Earth! To do this, we will need the participation of many people in other countries, so please if you know anyone who may want to help release human karma, refer them to our website and our Winter Solstice Event. It is up to all of us to transform past mistakes!
Blessings and Warm Regards,
Antera and Omaran
---
Metatron
(through Antera)

I greet you, this is Metatron of the Light! I am very excited about the prospect of this pyramid finally being built.... Indeed, now you have a perfect and welcome opportunity to build it within this time frame so that it will be maximized in its effectiveness and abilities. If you build it to be christened on the date you have planned, you will see that the pyramid takes on the energies of the crystal in the mountain and will channel those energies throughout in a very powerful way. Since the crystal that is being awakened is one of multi-dimensionality, let me explain just for a moment what that means....Read More

---

White Buffalo Calf Woman
(through Antera)

. . . I want to reiterate, I want to repeat that all peoples need to come together as one now! There are differences -- there are culture differences, ways of "looking at the world" differences, philosophical differences -- but it is time for all peoples to recognize that you are all of a culture that inhabits this planet. You are Earthlings! It is time to raise up the perspective of all human beings to Earthlings, not the different races and cultures that so many now identify with....Read More

This is a continuation of our contact with the Guardian of the Deep, an ancient being from deep inside our planet who recently emerged because of a need for his knowledge in Earth healing. As many of you know, we traveled to Australia in July to add points to our Earth Healing Grid on the other side of the planet, as requested by him and Ascended Masters. The main reason was to get the grid energy going through the core. We were asked to create nine points, three triangles that made one large triangle. So we made one triangle on each coast and one in the center.

GUARDIAN OF THE DEEP (through Antera): I am so pleased to have met the three main beings of the grid points in Australia. They are now communicating with each other, as well as through the Earth and with the inner beings, and the ones in North America. So you can just imagine how much is going on right now, and the level and immensity of information exchange that is going on! The three areas on the continent that you connected are now well established. That took a little while, to fully establish the connections between them, and make the giant triangle.

Now each of the three smaller triangles are communicating together, and together they communicate with the other two triangles, so it is a working system. These beings have not communicated with each other before, so this is a first.... Read More
Upcoming Events
(click on titles for flyers)
---

Sept 9 in Mt Shasta

Join us for this momentous event as we activate our new pyramid and the Atlantean Crystal in the mountain!
---

England Oct 16-17
Teleclass Nov 8,15

Divine Mother's initiation rite to activate your personal female power (for men too). Learn how to use this energy for personal and planetary healing.
---

England Oct 18
Teleclass Nov 14, 21

Learn a powerful method to clear old, negative energy from your home or office that may be subtly affecting you.
---


Releasing Karma and Pain from Your Past
Monthly Teleclass/Group Sessions

Clear the slate on many deep personal and ancestral issues including family, relationships, power, trauma, war, religions, and more.
---

Winter Solstice Virtual Event
Dec 20-21

Join us from your own home and represent your country for this massive world-wide karma release! We are all Earthlings and can do this for all humanity.