A Renewed Call from the Valley of Emergence!
There is still room on this transformative journey.
See the new message from St Germain below.



December 18-22
In Death Valley (Southern California)

Join Antera and Omaran in the spectacular Valley of Emergence for a very special winter solstice! This is where they met the Guardian of the Deep when he first surfaced in 2007, and since then the energy has grown more and more sacred. It is finally time to announce that it was selected a few years ago as the site of a new ASCENDED MASTER RETREAT! This new etheric center will be having its "Grand Opening" on the winter solstice, and the Ascended Masters put out a call for people who want to experience this school. Now a renewed call has gone out, and a higher level of activity with world-wide repercussions is brewing for this event.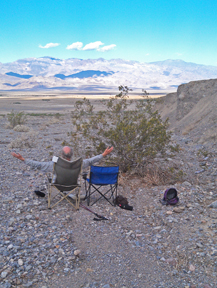 FROM ST GERMAIN on Oct 19 (through Antera):

I am putting out a call right now to all those who need to be there, these people will know who they are, they will hear the call of the Valley. My excitement stems from the fact that the Mountain Conclave was so successful! And all of those mountain beings will be directly connected to the Valley of Emergence, and to this etheric retreat! The fact that these mountain beings have been awakened, have changed their minds about humans, have decided to help humans, has increased the importance of this project immensely!

This Valley is the deepest place on the continent and by connecting this deep energy with the highest mountain energy, there is a very powerful potential created for humans, for the Earth, for all beings. This will go to a whole new level of communication, of awareness, of cooperation and working together in the balancing of this planet, in the healing of humanity, in the stabilization of your beloved Earth, which is required for humanity to move forward into higher consciousness.

The Valley provides this connection between the mountains and beings deep in the Earth. Now we move forward to the next step of this work, of creating connections, communication and cooperation between humans and the elemental kingdom, and the Ascended Ones and angels. The retreat that has been formed in the Valley of Emergence was designed exactly for this purpose of communication and greater tending, cultivating, balancing of these relationships and upgrading the stewardship of this planet to a more conscious level for humanity and the nature kingdom.

We are so excited about this! Those for whom this is a primary part of their soul's service work will know who they are. And we call them to come and do their part!

The new retreat specializes in the four elements of nature: air, water, fire, and earth. It is also especially designed to increase understanding and communication between humans and nature spirits. Many of them have been angry, afraid, or ignorant of humans because people generally ignore their needs. Now humans and elementals will have a safe place to learn about each other.

You will be guided into the etheric retreat, where you will experience the tools and vast knowledge available, and meet some amazing Ascended Ones and Devas. You will also learn to use the elements with greater skill and mastery, which will have great benefit in your life.

This three-day workshop will be personally transformative, a journey never before offered to anyone!




| | |
| --- | --- |
| | Antera and Omaran are a twin flame couple who live in Mt Shasta, California. They have taught spiritual growth classes and led ceremonies together for almost 20 years. They travel around the world creating the Earth Healing Grid and teaching land healing, with methods they learned from Ascended Masters, angels and nature spirits as well as many years of experimentation. For more info on them see their websites: SoulEvolution.org and Twinsong.us. |
---
Cost: $950 ~ Deposit: $300
Includes:
~~ the three-day workshop ~~
~~ group transportation while there ~~
~~ four nights of lodging (double occupancy) ~~
~~ meals ~~
~~ a ride from Las Vegas to Death Valley and back ~~

THIS LOW PRICE HAS BEEN EXTENDED TO NOVEMBER 18!
After that, the price goes up and the deposit is non-refundable.