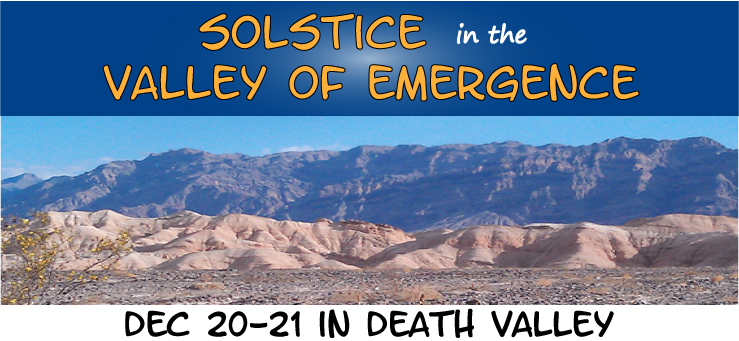 Join Antera and Omaran for two days in this spectacular valley, the deepest place in North America, for the Winter Solstice! It is called Death Valley, but the masters renamed it Valley of Emergence due to its new energy and role in awakening humanity's consciousness.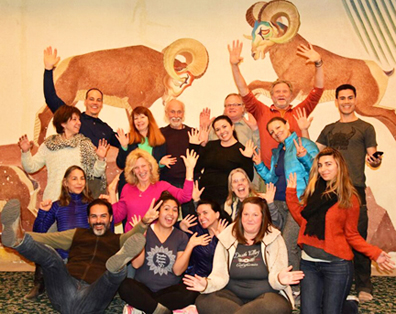 This retreat will be focused on individual as well as collective shifts. It will include some sightseeing of scenic rock formations and short hikes in addition to ceremonies and group lightwork, with the help of Ascended Masters, angels, devas and nature spirits.
The solstice, full moon, and the valley's depth will combine to provide a pronounced thinning of the veil, making it easier to deeply anchor high-level energies and make them more accessible to the planet and humanity.
You will sense the group of great Mountain Spirits who have been involved with this work since 2013, and devas of the deepest valleys of the world, including Tulena, spirit of this valley. Guardian of the Deep, a very evolved deep-earth fire deva, will help us connect with inner earth energies, and the Ascended Ones will align cosmic energies for greatest benefit.
This valley is the site of an etheric retreat center which focuses on helping humans and nature spirits work together as they get back into better awareness and communication. This center just opened in 2013 and it continues to build and expand its influence.
Individual healing will include balancing lower and upper chakras, balancing the elements within, and opening the heart space so the high heart can become more activated, moving you closer to embodying Christ Consciousness and humanity's next evolutionary step. You will ground your energy and body more deeply and profoundly than ever before in this unique place, enabling you to be a stronger conduit between spirit and matter, which is essential for spiritual evolution.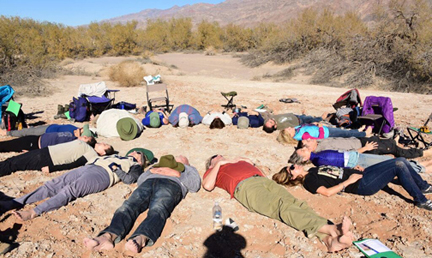 If your Higher Self wants you there, you will hear the call! It will be a magnificient group of lightworkers!

For Order of the Blue Snake members, we will have a special event afterwards on the morning of the full moon, December 22, so be sure to plan your travel after that.


| | |
| --- | --- |
| | Antera and Omaran are a twin flame couple who live in Mt Shasta, California. They have taught spiritual growth classes together for over 25 years. They travel around the world creating the Earth Healing Grid as part of the Land Healing Project. They founded the Center for Soul Evolution Mystery School and built the Mt. Shasta Pyramid. For more info on them see their websites: SoulEvolution.org and Twinsong.us. |
---
Cost: $577 before November 1. $277 deposit. Couple discount.
Includes the two-day workshop, three nights lodging (double occupancy), and transportation in the valley.
For camping possibilities instead of the hotel, please contact us.

REGISTRATION CLOSES NOVEMBER 15. Register soon!